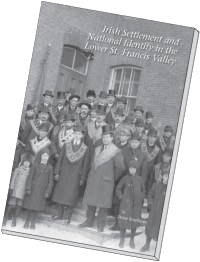 The Book
The book, Irish Settlement and National Identity in the Lower St. Francis Valley is written by Peter Southam, a retired history professor from University Sherbrooke and published by the Richmond St. Patrick's Society.
The book describes two hundred years of Irish presence in the Lower St-Francis Valley, a section of Quebec's Eastern Townships that surrounds the Town of Richmond. Much of the source of information for the book was provided by local families. Part I deals with Irish rural settlements and then part II focuses on the Richmond's St-Patrick's Society.
The book is available at Townships Expressions at 819-566-5717 and Papeterie 2000 in Richmond.